The State of Oregon recently enacted new rules for employers whose employees work in warehouses during the summer. Recent cases of worker deaths resulted in the adoption of some of the nation's strongest regulations regarding warehouse conditions. The new rules also applied to firefighters dealing with wildfires.
More recently, delivery drivers at Amazon, FedEx, and UPS have documented extreme heat conditions in their delivery trucks. The matter has been made much worse due to stresses caused by the pandemic. With more Americans relying on delivery to get basic needs, delivery drivers are in short supply. Meanwhile, record-breaking heatwaves across the globe have increased the risk of heat stroke and heat exhaustion placing workers in danger. Worse still, these folks are operating large moving vehicles, so if they lose consciousness while driving, death and major injury are a likely result.
The problem became a major focal point after a 24-year-old delivery driver died of heat stroke while unloading a truck. The problem is related to the cargo space and not the cabin. Delivery men are complaining that the heat reaches temperatures of 150 degrees making it unreasonably dangerous for drivers.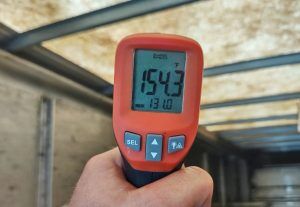 Why has UPS denied the request?
UPS claims that installing air conditioning in the back of the trucks would not help drivers avoid heat exhaustion. However, there are two elements here that are important to know. If a driver dies on the job, then UPS's workers' compensation policy will pay out death benefits to the family. Secondly, if that driver causes an accident that injures someone else, UPS will be sued for putting the public in harm's way by subjecting their employees to extreme heat. In fact, it's predictable that accidents would emerge from heat exhaustion and exposure to dangerous temperatures. The back of the truck essentially becomes an oven.
While the cost of installing the air conditioners would likely be a lot, UPS is risking personal injury lawsuits and workers' compensation claims by avoiding the upgrades. It is likely that a workers' compensation insurer would improve the terms of their policy if they elected to install air conditioners in the back of trucks. Nonetheless, UPS and related companies do not want to spend the money.
UPS claims it spends $260M annually on employee safety, however, employees must request to have a fan installed in the back of their truck. At present, this is their only remedy against the heat while many other delivery companies have already installed air conditioning in the back of their trucks. So, workers may have an opportunity to move elsewhere if they are able. UPS drivers are represented by the Teamsters union with the agreement set to expire in 2023. UPS may be waiting until the negotiations are underway to invest that money in their trucks. Nonetheless, they will have to pay workers' compensation claims related to heat stroke and heat exhaustion if this continues.
Talk to a New Jersey Workers' Compensation Attorney Today
Heat-related injuries are a growing concern for employees across the U.S. If you have suffered a heat-related illness due to working conditions, or any other type of workplace injury, call Schibell Law, LLC today to schedule a free consultation and learn more about how we can help.
https://jalopnik.com/ups-refuses-to-install-air-conditioning-in-150-degree-d-1849377501
https://www.opb.org/article/2022/07/29/heat-wave-tests-new-oregon-workplace-safety-rules/